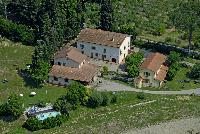 Poggio ai Cieli is a small, wine-producing holding of 10 hectares, situated in a hilly position at only 8 km from San Gimignano.
The ancient farmhouse has been restored and subdivided into comfortable flats and rooms.
All around the building there are cypress, lilac hedges, majestic pine trees, woods, olive groves, vineyards and .. lots of facilities and services available for our guests.